Making a Statement: Vegan Leather Tote Bags Infused with Original Artwork
Our vegan leather tote bags make you the center of
attention. They are made using vegan pebble leather without harming animals. They have original artwork from Andrea and Me and Me Too. The straps measure 22",  magnetic snap closures, and inner pockets.  Size: 18" wide, 12" tall, and 5" deep. The bag is large enough to carry all your things.
If you have to carry things, carry them in these stylish totes.
Custom made from textured vegan pebble leather with inner pockets and professional finishing. These totes are large enough to fit a 16" laptop but not so large as to weigh you down.
We are a fashion accessories and lifestyle website. We're the brand that likes to color outside of the lines. The artists at Andrea and Me and Me Too create trendy handmade jewelry, apparel and home accents.
Are you looking for pieces to add to your wardrobe?
Shop for your favorite must-haves at www.andreaandme.com
***FREE SHIPPING ON ALL JEWELRY ITEMS***
Shop vegan leather handbags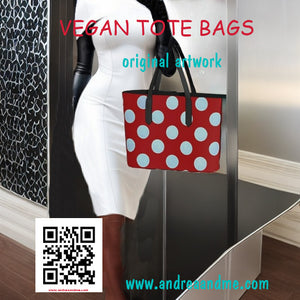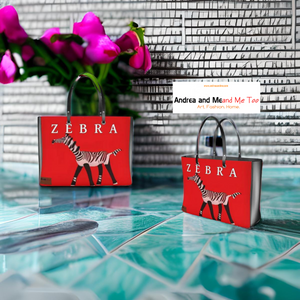 Zebra Motif on Red Background Designer Handbag
Luxe Made Affordable! Because looking good is. . .well, everything
Stand out from the crowd with this stunning bag. This bag has a beautiful black and white zebra motif design with the word Zebra printed on a red background. It is truly a trendy showstopper that goes from office, to dinner or out to play. The original art design really sets this bag apart from the crowd.
CAUTION: This purse is designed for people with way too much attitude to dress or look like everybody else on the planet.
Artistic Designs by Ann